L'arc en Ciel Theatre Group...

LCTG
LCTG is now in our 13th year at Great Oaks!
THE REGION'S BEST DINNER THEATRE VALUE! (in fact, the Region's ONLY full-time dinner theatre!) at Great Oaks, 13109 So. Wicker Ave (Hwy 41) in Cedar Lake, In 46303..............
COME SEE (and taste) FOR YOURSELF!
Next up at LCTG....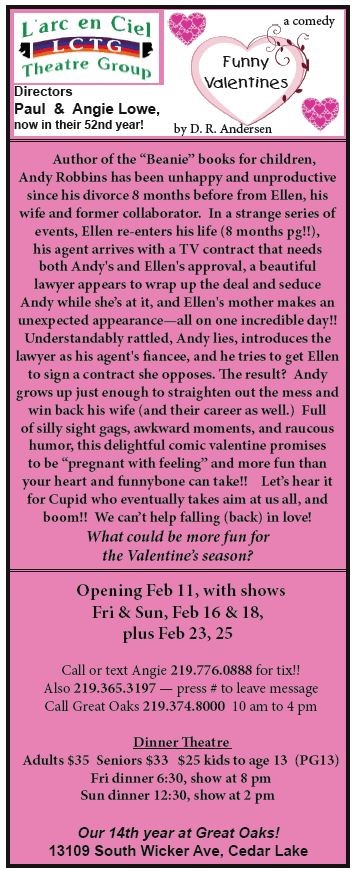 Sorry to be confusing, folks,
but all the other shows listed here below
are past shows only....
Had a few calls from confused patrons
(understandably!)
who missed them the first time...
Thanks for your patience!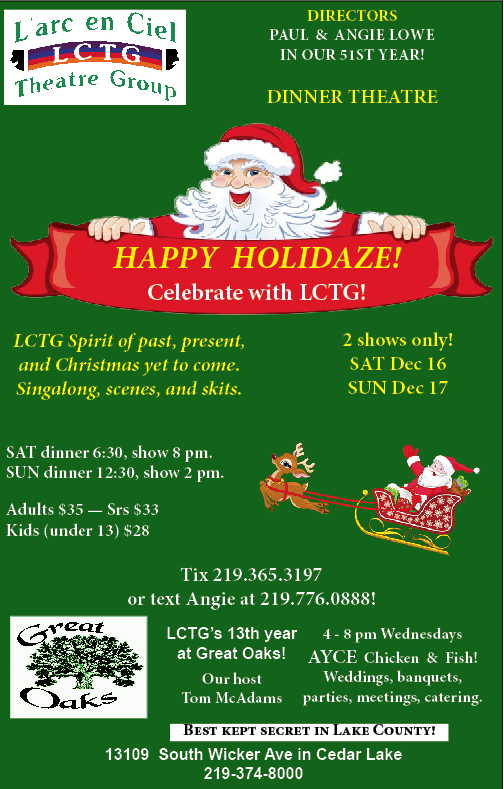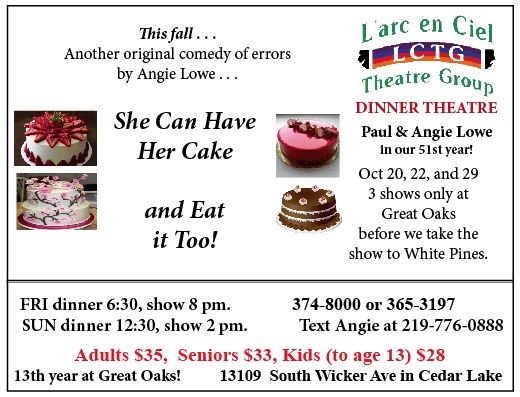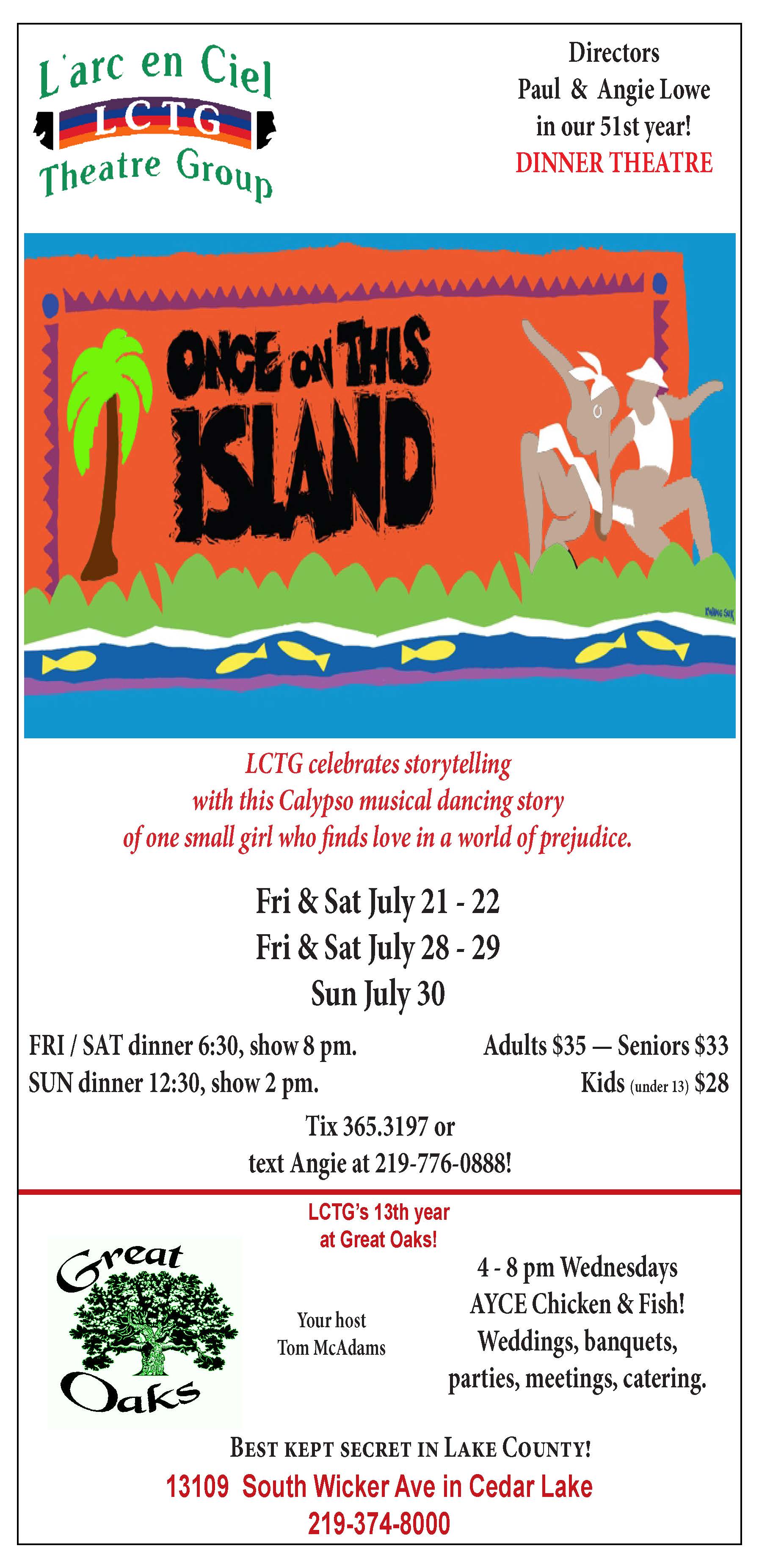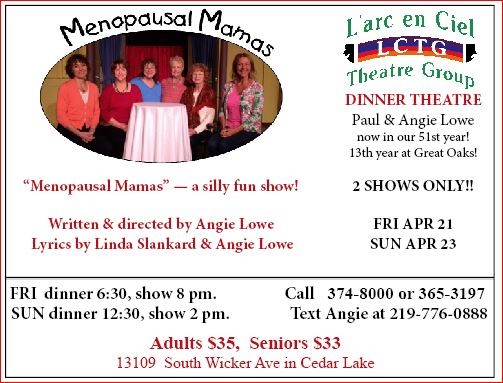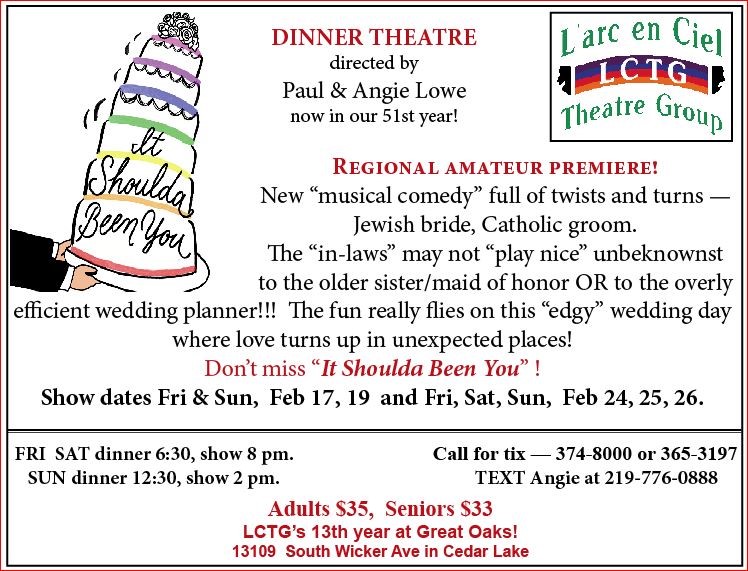 LCTG's latest musical (ad)venture!
(Please SHARE and
spread the good word! )
Sandy Owens and Kevin Sherman are Judy and Murray, the Jewish parents! Linda Slankard and Dr Al Smith are Georgette and yes, George, the Catholic parents!
Bride and groom are Kristi Peterson as Rebecca and Andrew Ross as Brian...with Sarah Denton as Jenny, the older sister/maid of honor, together with Lydia DeVille Hogan as Annie, the other maid of honor. Guys include Dan Ball as Greg, the best man, and Dean Johanson as Albert, the wedding planner.
Amy Johnson Sobek and Dean play dual roles as Aunt Sheila and Uncle Morty, with Amy also as Mimsy, the waitress. Jon Owens plays Walt, the waiter.
Oh, and uh-oh, just when you think the wedding party can't get any more crowded, enter the uninvited guest---the bride's ex-boyfriend Marty---played by Brandon Denton!!
No wonder the wedding cake appears to be toppling over!!!
Where better than a wedding venue (Great Oaks) to present this recent Broadway "wedding musical?"
LCTG is honored to be the first amateur theatre in the Region to be presenting this "edgy" musical, thanks to one of our LCTG favs Michael Berglund who dressed the show on Broadway and recommended it to us!!! Many thanks also to Jay Gianotti who is programming this incredible new music!
Don't forget----please SHARE and spread the word!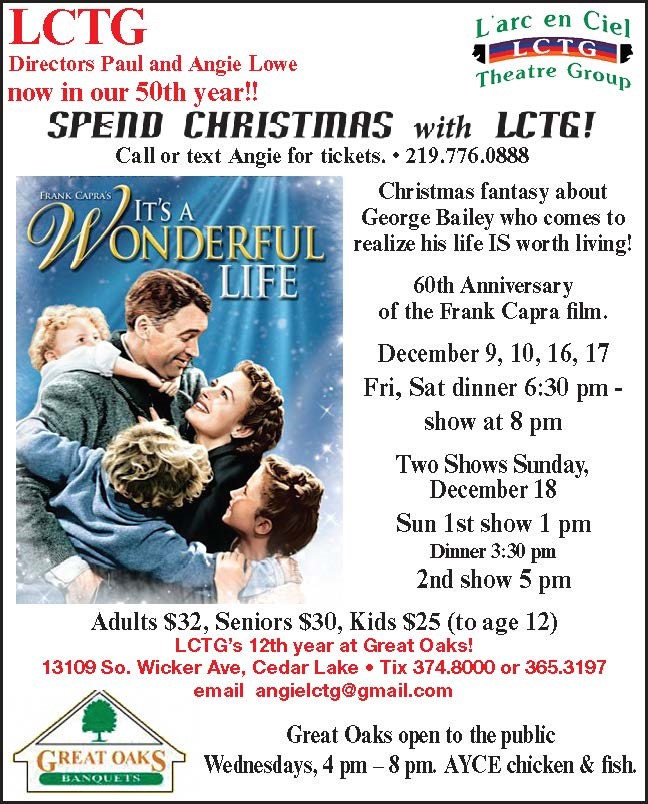 LCTG announces auditions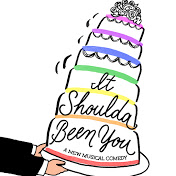 for a brand new musical--
Auditions begin
Sunday, Dec 11, 2016 from 6 pm to 9:30 at LCTG DINNER THEATRE Great Oaks, 13109 So Wicker Ave

Auditions continue Mon and Tues Dec 12, 13 at 7!
Parents all age-appropriate early 50's into 60's+
Wedding party all "30-something" or late 20's and "passable"
Nothing needs to be prepared, but it wouldn't hurt to give the music a listen to see if it's your style!
We think this could be everyone's new favorite! Edgy AND exciting!
Shows in February!

This is a sophisticated and slightly "edgy" little "wedding musical" with the absolute coolest new score!
Cast requirements parents of the bride (Judy and Murray) and groom (George and Georgette ) and uncle and aunt ( Morty and Sheila) , quirky wedding planner Albert, bride Rebecca, groom Brian,
best man and co-maid of honor , former boyfriend (uh-oh!) Marty, older (and overweight) sister of the bride Jenny , equally quirky waiter and waitress...all the ingredients for a disastrous family wedding! Search mtishows.com for clips and more---you'll want to be part of this! We are so excited (like Little Red---"excited AND scared!").....

LCTG beginning its 51st year....OMG!
Why not give us a try? We are open to all !!! Yes, we're the farthest south in the NIETF area, but we're worth the trip! Call or text Angie 219.776.0888 for details and info?

To find out at any time what's going on at LCTG.... or for info on our upcoming shows, call Angie at 219.365.3197 or call Great Oaks at 374.8000. You may also Email Angie at the new email address above....
More info to come! Come back soon!
Just closed at LCTG...our "kids" show....the musical HOW TO SUCCEED IN BUSINESS without really TRYING!!! Some of these kids have been working with us since A Christmas Story in Dec, 2008!!!
Meanwhile...our latest little ORIGINAL comedy...
by Angie Lowe.... WEDDING BELLES ARE RINGING!....came and went...so fasssst! Had a fun opening at Great Oaks, followed by 5 great shows at the Pines, then 2 more shows at Great Oaks!
Thanks to Jackie Verdeyen, Kali Rasala, Kay Wagman, Linda Slankard, Hannah Souronis, Aaron Cappello who brought Angie Lowe's zany script to life!
Last April, we did another zany comedy in
DOUBLE-BOOKED IN CABIN 4
featuring Linda Slankard, Kevin Sherman, Sarah and Brandon Denton.....as Peggy & Frank Jackson, and a yuppie couple known only as "Jackson and Jill".
We had a great run at White Pines with this show too! It was our 4th tour with Double-Booked at the Pines!!!
In January 2015, LCTG performed a favorite,
affectionately called HOJO'S!
MURDER AT THE HOWARD JOHNSON'S....
featuring Linda Slankard, Dr. Alan Smith, and Bruce Jung....
at any given time 2 of the 3 plotted to "kill" the other...ONLY THE AUDIENCE DIED LAUGHING!!!
Attention, LCTG theatre-goers!
Last Christmas 2014 we offered a money-saving offer for 3 shows....We're hoping to offer that again around Christmas of 2015!!! Please CALL FOR INFORMATION!
$AVE $$$$ with OUR GREAT 3-SHOW GIFT CERTIFICATE OFFER! GREAT FOR GIFT-GIVING FOR ANY OCCASION! Our offer was as follows: INSTEAD OF 3 X $32 = $96 FOR ADULT TIX, WE'RE OFFERING THE 3-SHOW PACKAGE FOR $85!!! AND/OR INSTEAD OF 3 X $30 = $90 FOR SENIOR TIX, WE'RE OFFERING THE 3-SHOW PACKAGE FOR $75!!! We HOPE to do this again once show dates are set for 2016!!!!
Spread the word!
AS ALWAYS OUR SUNDAY SHOWS FEATURE DINNER
AT 12:30 WITH SHOW AT 2.
FRIDAY SHOWS FEATURE DINNER AT 6:30
WITH SHOW AT 8!
Please be patient with our out-of-date site links...we're so busy doing theatre, we don't have time to do updates on the site!
WE WERE SO PROUD OF OUR SHOW LAST FALL 2014! FOXFIRE! THANKS TO ALL WHO CAME TO SEE IT!
FOXFIRE featured...Jacqueline Verdeyen, Mike Johnson, Matt Stinnett, Steve Becker, Laura Simmons, and Angie Lowe
Special thanks to our small but mighty crew!
A powerfully human play with music. Some stories and emotions can only be expressed in song, and this show promises to fill a place in your heart you may not even have realized was empty...until now.
In a departure from our usual light-hearted comedies, LCTG brings to the stage.... the charming, warm, vibrant, funny, yet touching FOXFIRE, a Tony, Oscar, and Emmy award-winning play with music, starring an LCTG favorite Jacqueline Verdeyen as Annie Nations, a feisty woman of 79, who has lived hard & worked hard on her primitive farm, so aptly named "Stony Lonesome", atop the Blue Ridge Mountains of Georgia, right alongside her curmudgeon of a husband, Hector. For all ladies who may have loved & lost, but who're still standing strong...for all families who've ever faced hard times but come through with their love, dignity, & sense of humor intact.....this one's for YOU!
Annie's tranquility is threatened...first, by a brash real estate man, one Prince Carpenter who is determined to hoodwink her out of her mountain home, lining his own pockets... and second, by worries about her son Dillard, who long ago rejected the idea of being a farmer like his father, much to dad Hector's chagrin. Dillard left the mountain to make his living as a country singer, and now Dillard is appearing in a nearby concert and takes time to make a rare visit to see his mother.
Hector is upset the moment his son arrives, and sure enough, Dillard asks his mother to abandon the hard life on the farm to come and live with him, not so she can take care of his kids, but so he can take care of her. Annie's inner struggles to decide her own future, yet cling to her past, takes her through many touching, tender, powerful, and always magical flashbacks to her days with her highly spirited, stubborn husband.
FOXFIRE is a tribute to the strength of one Appalachian woman in particular, and to all strong, determined women in general. The role of Annie was created by Jessica Tandy, both on Broadway & in film. The play was co-written by her husband Hume Cronyn (who appeared as Hector). Keith Carradine (Tony winner for Will Rogers Follies) portrayed Dillard, the singing, guitar-playing "narrator"/son.
Angie Lowe is blessed to have Jacqueline Verdeyen as the leading lady, a very familiar name here at the Pines. Jackie most recently played Molly, the Jewish grandma in the LOL comedies that played here the past 3 summers! Before that, however, the Pines enjoyed her performances as the feisty Miss Daisy (another Jessica Tandy role) in Driving Miss Daisy! Mike Johnson, veteran performer and old friend of Jackie's, plays her crochety old husband Hector. Another Pines favorite, Steve Becker, returns as Prince Carpenter, and two newcomers to the Pines, Matt Stinnett and Laura Simmons, appear as Dillard and a neighbor girl Holly Burrell. Angie Lowe makes a flashback cameo as a crusty old midwife who brings Dillard kicking and screaming into the world… Everyone adds his two cents to Annie's decision, but the ultimate decision is all hers to make....between the love she feels for her son....and the love she feels for her home and her roots. Whatever her decision, her husband knows "She'll be back..."


Call for any other info....Angie cell 776.0888 or home 365.3197 (press #, leave name, number, message)

COME LEND LCTG YOUR TALENTS, MAKE NEW FRIENDS, WORK HARD, AND HAVE A BLAST!
We had a another great show tour at White Pines summer of 2014...featuring...
LOL...LITTLE OLD LADIES,
THIRD TIME'S THE CHARM!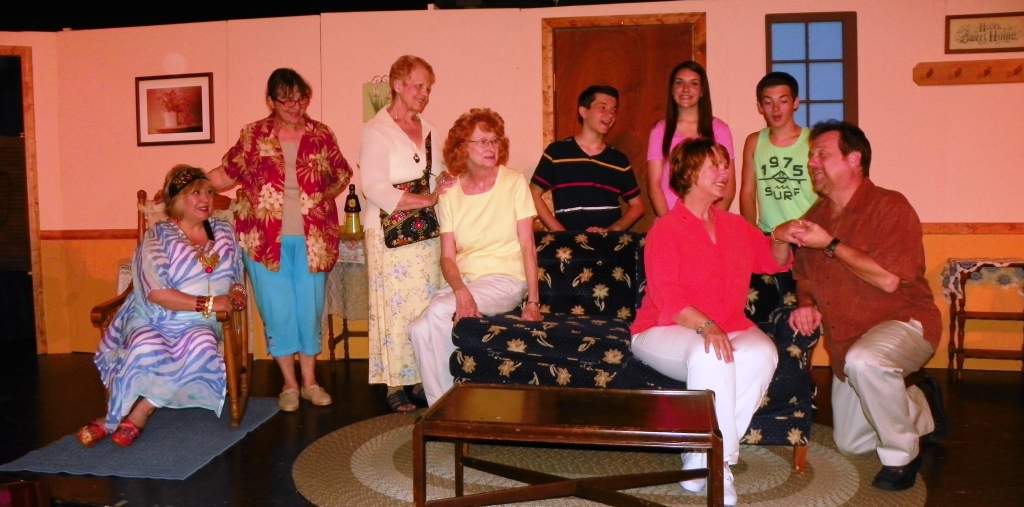 (by Angie Lowe)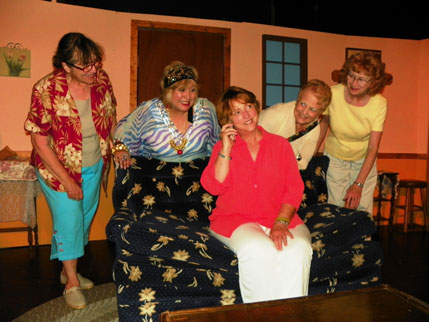 featuring Linda Slankard, Jacqueline Verdeyen, Leslie Evans, Kay Wagman, Aaron Cappello, Hannah Souronis, Austin Traina, and Angie Lowe
1st show was LOL...LITTLE OLD LADIES
2nd show was LOL...LITTLE OLD LADIES.....
ALL A'TWITTER!
3rd (& we thought, final) show was
LOL...LITTLE OLD LADIES
THIRD TIME'S THE CHARM!
Not too surprisingly, the audiences at White Pines asked for still another sequel, so Angie and the cast will do their best not to disappoint them....BUT...this time, we need a little break...so first at White Pines next summer we'll be featuring the LOLs but in a different setting and a different time.... call it the retroactive reincarnation of the LOLs!!!
That will be a cute little show called Wedding Belles, to run next July 2015 before a late July tour at White Pines.
BUT...BEFORE THAT...LCTG takes its great little show Double-Booked in Cabin 4 back to the Pines after two shows at Great Oaks...WATCH FOR THAT IN MID-APRIL 2015!
So...Angie will be working on LOL 4 in the next year so plan for July 2016! The LOLs have already said yes to the 4th (and this time...we really mean it!) and final LOL show!
Oh, and if you missed the Nunsense Jamboree in Jan/Feb 2014, you might like to know that we may do another Nunsense show in the next few years, the Good Lord willing!



Sister Amnesia's

Country Western

NUNSENSE JAMBOREE!!!
Yee ha!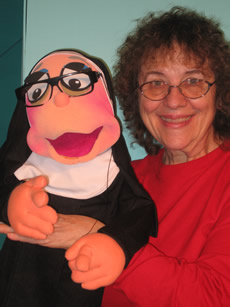 Yep, the Little Sisters of Hoboken were back, even the naughty Sister "Mary Annette"!
LCTG may present still another in the Nunsense series in the next year or two, God willing. Stay tuned!
October 2012, LCTG was proud to present
HARD TRAVELIN' WITH WOODY!
featuring '78 LCTG grad Randy Noojin, fresh from his NYC opening of this, HIS OWN SHOW, after performing benefits for the homeless shelters and soup kitchens in Tennessee!
Follow Randy on his website HardTravelinShow.com
or Randy Noojin on Facebook! Here are pix of Randy!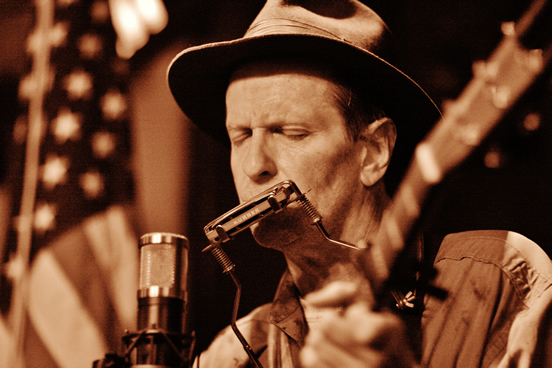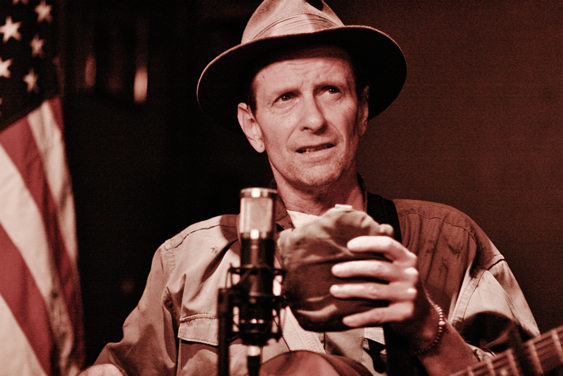 RANDY NOOJIN (currently NYC Equity Actor) came "home" to LCTG to perform HIS VERY OWN ONE-MAN SHOW!
Randy portrayed Woody Guthrie, champion of America's down-and-out, homeless hobos, victims of the Depression and Post-Depression era in these, our beloved United States of America!
Guthrie, a self-made hobo himself, hopped his share of the freight train boxcars, commiserating with migrant workers, creating stories from his experiences getting to know and love the homeless, the underprivileged, and the unemployed.
Randy performed as a benefit for his "home" theatre LCTG.
Part of proceeds was donated to the Cedar Lake Food Pantry, just as Woody Guthrie would've wanted!
****************************************
Below see pix of LOL...Little Old Ladies----- from July 2012.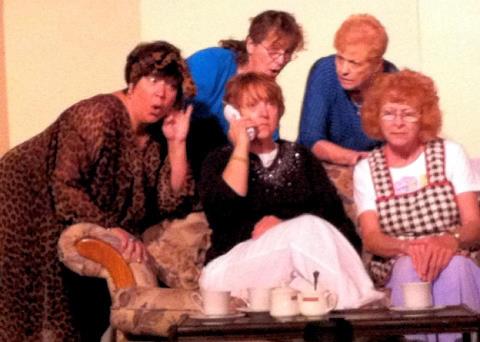 Linda Slankard, Jackie Verdeyen ,
Kay Wagman, Leslie Evans, & Angie Lowe,
featuring 12-yr old Aaron Cappello.
Steven Becker joined us in the sequel, along with two other great teens Hannah Souronis and Austin Traina!!!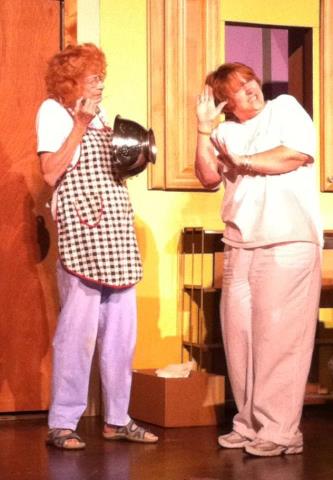 A 12-yr-old boy teaches the LOL's (the Little Old Ladies) a thing or two about internet jargon, and everybody learns about what is truly important in life! It's the ultimate bridge between the generation gaps! The sequel will be chocked with fun and Facebook and Twitter!
Welcome, LOLs, to the 21st century and to today's social network!!!
You can always find out about LCTG at www.greatoaksbanquets.com -----just click on our new dinner theatre button!
PIPPIN closed June 23rd, 2012! ...We miss it!!!
Company photos of Pippin! Great group, great show!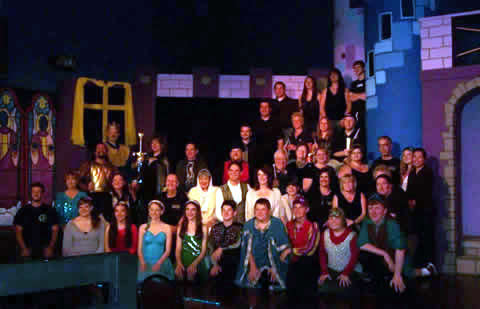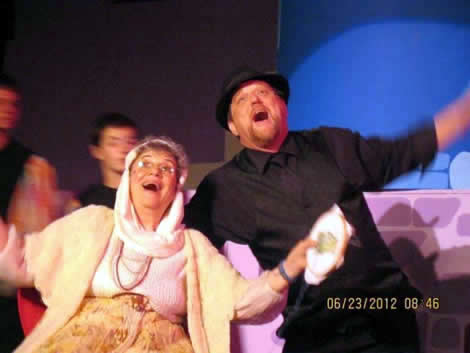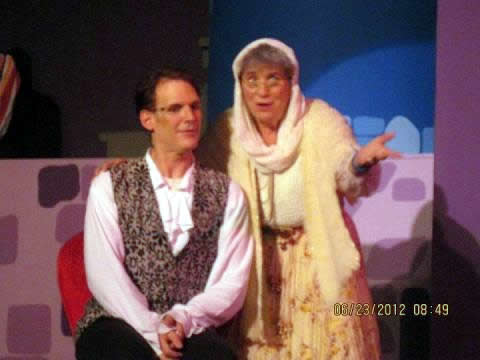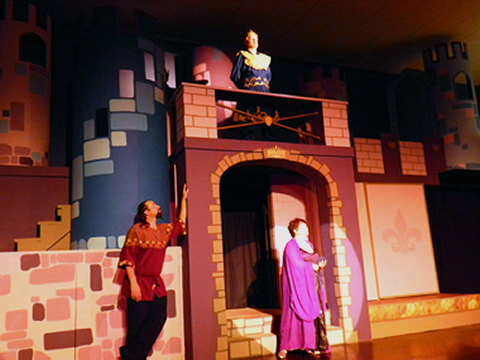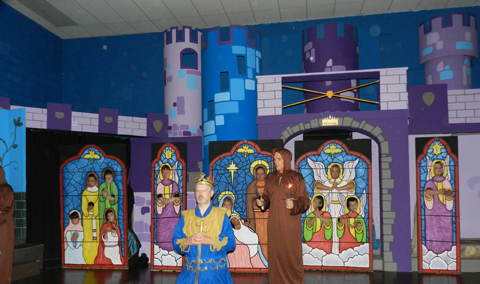 Email Angie for tix/info .... angielctg@sbcglobal.net
Also visit www.greatoaksbanquets.com & click on our new dinner theatre button!
Come be a part of LCTG! WE NEED YOUR HELP!!